As followers of Jesus Christ, we come together to lift our prayers, our voices, and our hearts to the One who is truly worthy of our worship. It is because of Him that we gather to hear God's Word and encourage one another to grow in the grace and knowledge of our Savior. Our prayer is that you find a community of faith where you too can belong and enjoy His presence with others who are on this amazing journey.
Mon-Thu: 8:00 am – 3:00 pm
Unity (Galatians 3:26-29; Ephesians 4:1-5
Unified in Creed (Mark 12:28-34)
Unified in Attitude & Action (Philippians 2:1-11)
Unified in Organization (UB Denomination www.ub.org; PSC-Organization)
Unified in Aim (Isaiah 2:1-5)
Holiness in Mind/Heart (Romans 12:1-2)
Holiness in Body (Romans 5:1-5; Hebrews 12:1-2; John 2:15-17)
Holiness Practiced (1 Timothy 4:6-10)
Benevolence to the Needy/Lost/Outsider (Matthew 25:37-40)
Benevolence to the Church/PSC Ministries/Denomination (2 Corinthians 8:1-15)
Benevolence to "one another" Sunday School Classes/Small Groups (1 John 2:7-11)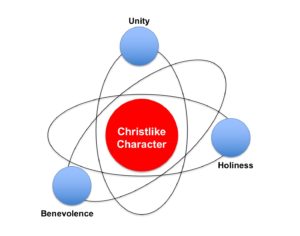 Mining the Mountains-The Daily Dig-June 26, 2019
Wednesday
(Ephesians 2:11-16) Feeling like an outsider is one thing (some people get a charge from rebellion) but being excluded is even worse. Paul paints a bleak picture of the Gentile reality face to face the calling of Israel and Israel's God. They were living "without God and without hope." That's Paul's summary. The Gentiles believed in gods, but according to the Creator God of Israel, the gods were nothing but lifeless idols and demonic. If their gods were their source of hope, then they were without any genuine hope. All this left them excluded from the Jewish Messiah, promises, and worship of the True God. It saddens me that we have gone full circle in our Western culture. Many live life trusting in self, science, politics, and progress to help them flourish. We celebrate our idols of power and they leave us with a fleeting hope that lasted for a moment. Like then, it will take the power of the Gospel and Holy Spirit to break our Western spell.