As followers of Jesus Christ, we come together to lift our prayers, our voices, and our hearts to the One who is truly worthy of our worship. It is because of Him that we gather to hear God's Word and encourage one another to grow in the grace and knowledge of our Savior. Our prayer is that you find a community of faith where you too can belong and enjoy His presence with others who are on this amazing journey.
8:30 am Traditional Service
11:00 am Contemporary Service
Church-20 N. Prince Street, Shippensburg, PA 17257
Church Office-17 N. Penn Street, Shippensburg, PA 17257
Office Hours-Monday-Thursday-8am-3pm Friday-8am-1pm
Unity (Galatians 3:26-29; Ephesians 4:1-5
Unified in Creed (Mark 12:28-34)
Unified in Attitude & Action (Philippians 2:1-11)
Unified in Organization (UB Denomination www.ub.org; PSC-Organization)
Unified in Aim (Isaiah 2:1-5)
Holiness in Mind/Heart (Romans 12:1-2)
Holiness in Body (Romans 5:1-5; Hebrews 12:1-2; John 2:15-17)
Holiness Practiced (1 Timothy 4:6-10)
Benevolence to the Needy/Lost/Outsider (Matthew 25:37-40)
Benevolence to the Church/PSC Ministries/Denomination (2 Corinthians 8:1-15)
Benevolence to "one another" Sunday School Classes/Small Groups (1 John 2:7-11)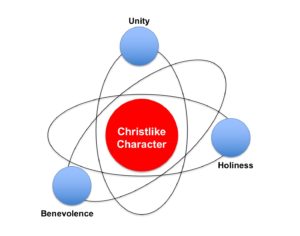 Mining of the Mountains-The Daily Dig-August 23, 2019
Friday
The Daily Dig (Ephesians 4:25-5:2)
I have always been greatly entertained by comedians who can imitate a celebrity. Like the Saturday Night Live members doing various presidents through the years. I will admit, it's great fun to see a man do a convincing Barbra Streisand. Well, I know you don't all have my sense of humor, thankfully. Have you ever noticed how your child picks up some of your little quirks. Unfortunately, they're not always the ones you're proud of. I think it was once said, "Imitation is the greatest form of flattery." Imitating God isn't meant to flatter Him. It is actually living life the way He created us to live. It is walking in the Spirit, blessing and loving one another like Christ loved us, and giving hope to the world. Imitating God will certainly be an eternal endeavor. Why not start now.