As followers of Jesus Christ, we come together to lift our prayers, our voices, and our hearts to the One who is truly worthy of our worship. It is because of Him that we gather to hear God's Word and encourage one another to grow in the grace and knowledge of our Savior. Our prayer is that you find a community of faith where you too can belong and enjoy His presence with others who are on this amazing journey.
8:30 am Traditional Service
11:00 am Contemporary Service
Church-20 N. Prince Street, Shippensburg, PA 17257
Church Office-17 N. Penn Street, Shippensburg, PA 17257
Office Hours-Monday-Thursday-8am-3pm Friday-8am-1pm
Unity (Galatians 3:26-29; Ephesians 4:1-5
Unified in Creed (Mark 12:28-34)
Unified in Attitude & Action (Philippians 2:1-11)
Unified in Organization (UB Denomination www.ub.org; PSC-Organization)
Unified in Aim (Isaiah 2:1-5)
Holiness in Mind/Heart (Romans 12:1-2)
Holiness in Body (Romans 5:1-5; Hebrews 12:1-2; John 2:15-17)
Holiness Practiced (1 Timothy 4:6-10)
Benevolence to the Needy/Lost/Outsider (Matthew 25:37-40)
Benevolence to the Church/PSC Ministries/Denomination (2 Corinthians 8:1-15)
Benevolence to "one another" Sunday School Classes/Small Groups (1 John 2:7-11)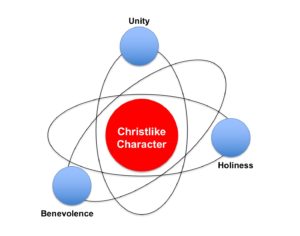 Mining of the Mountains-The Daily Dig-September 20, 2019
Friday
The Daily Dig (Ephesians 6:1-9) "There is no favoritism with Him" [God the Father, Son, and Spirit]. The fact that all Christians serve the same Master seems to have fallen on deaf ears to some. We still have believers who show favoritism and act like they are the master in many of our churches. If the goal of Discipleship is Christlikeness, then we have dropped the ball. Churches as diverse as the Asian churches would have understood the call to unity amidst diversity. A church that lacks generational, artistic, musical, racial, social, and gender diversity is missing out on all the blessings God's people bring to one another. When I was single and living alone, my cat didn't seem to mind eating the same thing every day. A child can stay alive on pizza, but we all know that isn't what's best for them to eat everyday. As a matter of fact they miss out on so many wonderfully interesting things to taste. Those of us in authority ("fathers and masters") need to be reminded that leadership according to Jesus is to serve all. That means decisions that benefit ALL. God shows no favoritism.
Delores Catherine Ocker, 89, of Shippensburg, entered eternity, Sunday, September 15, 2019 in the Chambersburg Hospital. Delores was Rhoda Treher's mother and Charlie Treher's mother in law.
Funeral services will be held Saturday, September 21, 2019 at 10 a.m. in the Fogelsanger-Bricker Funeral Home & Crematorium, Inc., Shippensburg. Burial will be in Spring Hill Cemetery. A viewing will be held Friday evening from 6-8 p.m. and one hour prior to the funeral service on Saturday.
In lieu of flowers memorial contributions may be made to WellSpan Chambersburg Hospital NICU (Neonatal Intensive Care Unit) C/O Summit Health Development Office, 785 Fifth Ave., Chambersburg, PA 17201.