As followers of Jesus Christ, we come together to lift our prayers, our voices, and our hearts to the One who is truly worthy of our worship. It is because of Him that we gather to hear God's Word and encourage one another to grow in the grace and knowledge of our Savior. Our prayer is that you find a community of faith where you too can belong and enjoy His presence with others who are on this amazing journey.
Unity (Galatians 3:26-29; Ephesians 4:1-5
Unified in Creed (Mark 12:28-34)
Unified in Attitude & Action (Philippians 2:1-11)
Unified in Organization (UB Denomination www.ub.org; PSC-Organization)
Unified in Aim (Isaiah 2:1-5)
Holiness in Mind/Heart (Romans 12:1-2)
Holiness in Body (Romans 5:1-5; Hebrews 12:1-2; John 2:15-17)
Holiness Practiced (1 Timothy 4:6-10)
Benevolence to the Needy/Lost/Outsider (Matthew 25:37-40)
Benevolence to the Church/PSC Ministries/Denomination (2 Corinthians 8:1-15)
Benevolence to "one another" Sunday School Classes/Small Groups (1 John 2:7-11)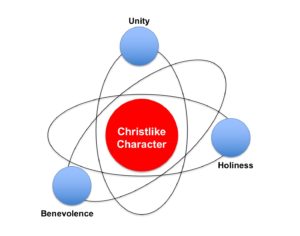 Mining of the Mountains-The Daily Dig-July 19, 2019
Friday (Ephesians 3:8-13) People throughout history have performed heroic actions for the love of country, family, and God. Some of these actions were very costly. Paul asks the church to not be discouraged because of his suffering. Remember, Paul was in prison as he wrote this letter. He knew that God had called him to bring the Good News of King Jesus to the Gentiles and nothing was going to stop him. He also understood that this would be a confrontation with the earthly and heavenly powers. Paul was following the trail that Jesus had blazed. He would stand in the gap for the church and make a way for them to come into their own. He did not want them to give up and be intimidated by his imprisonment. It was through his ministry that they (the Gentiles) would shine with the glory of God in the face of Jesus.