As followers of Jesus Christ, we come together to lift our prayers, our voices, and our hearts to the One who is truly worthy of our worship. It is because of Him that we gather to hear God's Word and encourage one another to grow in the grace and knowledge of our Savior. Our prayer is that you find a community of faith where you too can belong and enjoy His presence with others who are on this amazing journey.
8:30 am Traditional Service
11:00 am Contemporary Service
Church-20 N. Prince Street, Shippensburg, PA 17257
Church Office-17 N. Penn Street, Shippensburg, PA 17257
Office Hours-Monday-Thursday-8am-3pm Friday-8am-1pm
Unity (Galatians 3:26-29; Ephesians 4:1-5
Unified in Creed (Mark 12:28-34)
Unified in Attitude & Action (Philippians 2:1-11)
Unified in Organization (UB Denomination www.ub.org; PSC-Organization)
Unified in Aim (Isaiah 2:1-5)
Holiness in Mind/Heart (Romans 12:1-2)
Holiness in Body (Romans 5:1-5; Hebrews 12:1-2; John 2:15-17)
Holiness Practiced (1 Timothy 4:6-10)
Benevolence to the Needy/Lost/Outsider (Matthew 25:37-40)
Benevolence to the Church/PSC Ministries/Denomination (2 Corinthians 8:1-15)
Benevolence to "one another" Sunday School Classes/Small Groups (1 John 2:7-11)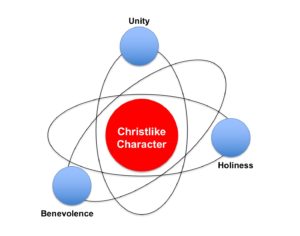 The Mining of the Mountains-The Daily Dig- November 15
, 2019
Friday
The Daily Dig – On the road to Gaza (Acts 8:26-40) When the Good News of Jesus takes hold of someone's life things happen. Two important events took place right away in this eunuch's life. First, he was baptized and second, he went home rejoicing. Through baptism this perpetual outsider to Judaism became in insider to the Church. He became a follower of King Jesus, a disciple. He was now a brother to Philip. He was now part of the Household of God. He is a member of the New Covenant people of God through the blood of the Suffering Servant (Isaiah 53). He is a living stone being built up into the New Temple God. He received the Spirit that cries out "Abba, Father." He thought he was already royalty, but now he is a royal priest. I could go on! It takes a lifetime to unpack these truths, but it only takes a moment to experience the overwhelming love that comes from the presence of the Spirit of Christ. There are stories that trace the possible establishment of the church in Ethiopia to this man. Little did Philip know (or maybe he had a hunch?) that being obedient to go into the middle of nowhere would be so life changing.