As followers of Jesus Christ, we come together to lift our prayers, our voices, and our hearts to the One who is truly worthy of our worship. It is because of Him that we gather to hear God's Word and encourage one another to grow in the grace and knowledge of our Savior. Our prayer is that you find a community of faith where you too can belong and enjoy His presence with others who are on this amazing journey.
8:30 am Traditional Service
11:00 am Contemporary Service
Church-20 N. Prince Street, Shippensburg, PA 17257
Church Office-17 N. Penn Street, Shippensburg, PA 17257
Office Hours-Monday-Thursday-8am-3pm Friday-8am-1pm
Unity (Galatians 3:26-29; Ephesians 4:1-5
Unified in Creed (Mark 12:28-34)
Unified in Attitude & Action (Philippians 2:1-11)
Unified in Organization (UB Denomination www.ub.org; PSC-Organization)
Unified in Aim (Isaiah 2:1-5)
Holiness in Mind/Heart (Romans 12:1-2)
Holiness in Body (Romans 5:1-5; Hebrews 12:1-2; John 2:15-17)
Holiness Practiced (1 Timothy 4:6-10)
Benevolence to the Needy/Lost/Outsider (Matthew 25:37-40)
Benevolence to the Church/PSC Ministries/Denomination (2 Corinthians 8:1-15)
Benevolence to "one another" Sunday School Classes/Small Groups (1 John 2:7-11)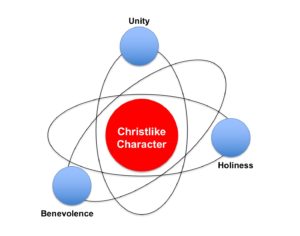 __________________________________________________________________________________________
19th Annual-Prince St. Church
Saturday, February 29-Dinner at 5:00 pm
Please bring a hot or a cold dish

(dessert will be provided)

. Please call (717)532-8404 as soon as possible to reserve your tickets. Tickets are extremely limited. There is no charge for the tickets; donations will be accepted. Tickets may be picked up at the Prince Street Church office, or mailed to you.
__________________________________________________________________________________________
Mining the Mountains-The Daily Dig- February 20, 2020
Thursday
The Daily Dig (Matthew 13:36-43) "Why does God wait?" That is a good question and one that comes up from time to time. The harvest is a terrifying vision for those who know they are guilty and at the same time a time of rejoicing for those who have been oppressed by the "children of the evil one." Jesus destroys any images of His Kingdom here and now being a utopia of rainbows and butterflies. Sorry. There are weeds. So why does God wait with all this rampant evil? Some of course just give up and conclude there is no God or blame Him for allowing evil, etc. Jesus was upfront about this. We are the ones who have distorted our understanding of His Kingdom. Any parent who takes rearing their children seriously and lovingly will tell you it really never ends. Love is always reaching out and hoping that a child who has gone down a wrong road will get it right. All I can say is what Jesus said, if we being evil can give our children good things, then certainly God is ready (my paraphrase). 2 Peter 3:9 The Lord is not slow in keeping his promise, as some understand slowness. Instead he is patient with you, not wanting anyone to perish, but everyone to come to repentance.
__________________________________________________________________________________________