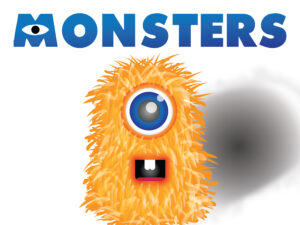 Overcoming the fear of scary things with God's Help.
Join us for Wednesday evening JAM, October 6-21, 6:30-8:00.
Kids ages 3 years through 5th grade.
Children's Ministry Purpose Statement: The purpose of the Prince Street Children's Ministry is to introduce children to the love Christ has for them, help them develop their relationship with Him and grow in their spiritual walk. It is our desire to develop disciples who will then be able to disciple those they meet along their life's journey.
Sunday Morning
Nursery:
On Sunday mornings, we provide loving childcare for infants through 3 year old during both the 8:30 & 11:00 services. Our staff have regular training sessions and eagerly await our youngest visitors.
The Sunday School hour is 9:45-10:45. We offer three grade levels:
3 years-Kindergarten

1st & 2nd grade

3rd-5th grade
Activities include a time of music all together then separate for Bible reading, active learning, prayer and much more. We use Buzz Curriculum with this fall's offerings as follows:
Pre K-Kindergarten-Rainbow Promise-Kids explore creation, Noah's Ark & Joseph's coat

1st & 2nd grade-God's Top 10-Kids explore God's loving commands

3rd-5th grade-Crime & Punishment-Kids explore God's loving justice
During the 11:00 service, children 3 years-4th grade are dismissed to Children's Worship. Our goal is to allow the boys and girls to participate in worshiping in a way that best meets their needs and ultimately prepares the boys and girls to join the adult service. We include scripture reading, worship music, Bible reading, prayer and a short children's sermon or object lesson.
Wednesday evening activities run from October through April at 6:30 pm and run until 8:00 pm for boys and girls ages 3 years through 5th grade. ALL CHILDREN MUST BE POTTY TRAINED. Wednesdays are a time of relaxed learning through songs, games, crafts, cooking and Bible lessons. The children are encouraged to bring friends along. This fall we will be offering fun topics such as: Unfrozen Curriculum, Snowflake Curriculum and Experiments in Faith Curriculum. In addition we have planned service activities, game nights, Thanksgiving and Easter celebrations as well as several "Wacky Wednesdays".
Special Activities:
We also offer special activities throughout the year. Such as Vacation Bible School, Trunk or Treat, our annual Christmas Program, Cool at the Pool and Promotion Sunday. *All children's activities are located on the lower level*
Important information and forms for our Children's Department
To work in the nursery, you will need to have clearances,
please click the link below for more information.
Prince Street Nursery – Infants and Toddlers – Ages birth to 3 years
Discipline in the Nursery
The purpose of discipline in the nursery is twofold. First to stop inappropriate or dangerous behavior; second, to help the child find another, more appropriate way to behave. Our policy achieves these outcomes through the following procedures:
1. Preventing problems-our nursery is set up to be safe and trouble free.
5. Acknowledging feelings.
Our goal in the nursery is to teach as Jesus taught. Discipline will NEVER include any sort of negative physical touching ridicule, sarcasm, threats or withholding any sort of of care from the child.
In order for us to provide safe and loving care for your child, please:
1. Label sippy cups and toys.
2. Choose a cubby, label it with your child's name and place all belongings in this cubby.
3. Sign in your child on the check in form, adding any special instructions.
4. Take a numbered beeper with you.
If this is your first time with us, please fill out
an information sheet on your child.
We want to provide a healthy environment in our nursery, so we ask you to keep your baby at home when you observe any of the following:
Discharge in or around the eyes
Green or yellow runny nose
If your baby becomes ill while in the nursery, you will be notified promptly.
If your child is being treated with an antibiotic, he or she should have received treatment for at least 24 hours before coming to the nursery.
For your child's protection, we ask our caregivers to follow these same guidelines.